Rebel Rock Ready for Mid-Ohio
Former winner Liddell returns to circuit after 5-year absence.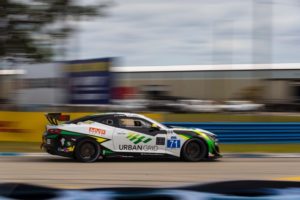 LEXINGTON, Ohio (30 April 2019) – After an encouraging start to the 2019 IMSA Michelin Pilot Challenge season that hasn't yielded the results to match the effort, Rebel Rock Racing is looking forward to Saturday's Mid-Ohio 120 at Mid-Ohio Sports Car Course.
Frank DePew and Robin Liddell will co-drive the No. 71 Urban Grid Solar/MVP Capital Chevrolet Camaro GT4.R in the two-hour race, part of the 23-car entry in the lead Grand Sports class.
DePew has been to Mid-Ohio as a spectator for an IMSA WeatherTech SportsCar Championship event, but has yet to turn a lap on the 13-turn, 2.258-mile circuit.
"I've never raced at the track, so it will be a bit of a learning curve, but hopefully I'll be up to the challenge," DePew said. "I've got a pretty good idea of what I need to do, so hopefully I can get in there, hit my marks, and get close to where I need to be. I want to qualify as best as I can, stay on the lead lap and avoid trouble. Then, I'll turn it over to Robin, and see what he can do."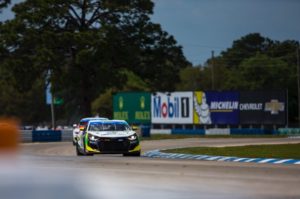 Liddell won two races among five podium finishes in Grand-Am Rolex Series GT competition at Mid-Ohio, but has not raced there since 2013.
"I'm really looking forward to getting back to Mid-Ohio, because as strange as it may sound I'm just excited to be visiting a circuit which I haven't seen for over five years," said Liddell, who serves in the dual role of driver and team manager for Rebel Rock Racing.
"Mid-Ohio is a fun track to drive, but only when the car is working well," Liddell said. "I'm confident the team at Rebel Rock can give Frank and myself a good car for this event."
Rebel Rock Racing was caught up in an early incident in the most recent event at Sebring, where the team lost 10 laps after being knocked off course by a competitor. In the season opener at Daytona, the team was taken out on the third lap and finished 35th.
"At Sebring I started 21st, moved up three positions and then during a pass at Turn 16 to move up another position our Camaro was hit, breaking the left front control arm and putting us out of contention, and our crew did an amazing job to get us back into the race so quickly and after the quick repair the car felt solid and was still turning good lap times." said DePew. "I felt good about my driving at Sebring; I got up to speed and felt confident behind the wheel. I feel good about Mid-Ohio and I'm looking forward to it."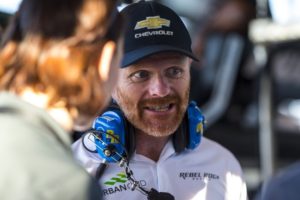 Liddell is also optimistic returning to the circuit.
"Usually the races are pretty intense at Mid-Ohio and coupled with the layout makes it an exciting event for the fans," Liddell said. "Our goal this weekend is simply to deliver a solid finish with no mistakes, and I'm sure that if we do that we will net a strong finish. It's been nice to have a break since Sebring to allow everyone to reset, and I know that we are all as prepared as we can be and are looking forward to hitting the track on Thursday."
On-track activity begins on Thursday with promoter's day testing. Official practice sessions run on Friday from 11:40-12:40 a.m. and 4:35-5:20 p.m., and Saturday from 9:20-9:35 a.m. GS qualifying will be Saturday from 10:05 a.m-10:20 a.m. The Mid-Ohio 120 is set to take the green flag for two hours of racing on Saturday at 1:45 p.m.