Rebel Rock Racing Wins in Canada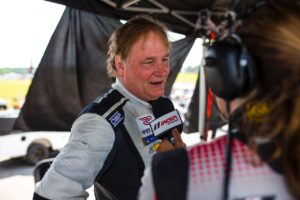 BOWMANVILLE, Ont. (6 July 2019) – Rebel Rock Racing scored its first IMSA Michelin Pilot Challenge victory on Saturday, with Frank DePew and Robin Liddell winning the Canadian Tire Motorsport Park 120 in the No. 71 Urban Grid/MVP Capital Chevrolet Camaro GT4.R.
A solid opening stint by DePew and a gutsy call in the pits put Liddell in the lead with 40 minutes remaining – and the veteran Scotsman was able to take it home for his tenth career victory in the series.
A late-race caution allowed the remaining contenders to close in for an 11-minute sprint to the checkered flag. Liddell was up to the task, winning by 0.587-seconds.
"This feeling is great and amazing," said DePew, who ran a clean opening shift that saw him gain three positions and remain on the lead lap in his first visit to the high-speed, daunting circuit. "I came here only thinking of survival, given that I have never driven at this track before. I kept it clean and did what I needed to do to keep us in the hunt before turning the car over to Robin, who did an amazing job. The Rebel Rock team called an amazing race as well. A lot of this win was strategy – two fast pit stops got us in front of the field. Then Robin did the rest."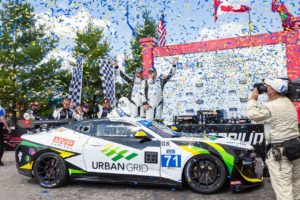 Liddell rejoined the race in 13th after the first stop and was up to 10th when he suddenly pitted under green for fuel and tires with 52 minutes remaining – the first of the GS competitors to make their final stop. Returning in 18th, Liddell raced to a 5.4-second lead only eight laps later as the remaining contenders made their stops. He had a bit of a scare as he was lapping an errant back marker who forced him wide onto the grass with 21 minutes remaining, four minutes before the caution bunched up the field prior to the final restart.
"I simply can't put into words how happy I am that we have won this race!" Liddell said. "Frank drove extremely well in the opening stint but these races inevitably come down to the last fifteen minutes and this was no exception. The balance and handling of our Camaro was excellent throughout the stint, thanks to the hard work and preparation by the Rebel Rock crew. The rear was going off a little but after the last restart the grip had stabilized and I knew I could hang on. I think this win proves to everyone that we are a force to be reckoned with and I'm extremely proud of Frank and the whole team."
Rebel Rock Racing was coming off a season-best fifth-place finish in a four-hour race at Watkins Glen International, a result that turned around a campaign that saw the team experience bad luck in the opening laps during the first three races of the year.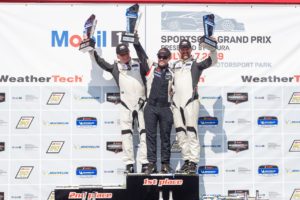 "We've built a completely new team within the last year, and to get everybody to gel and work together as a group in that time is an incredibly hard process," Liddell said. "We're constantly looking at how we can make things better and get the best out of the team. We sat down together after Watkins Glen last week and discussed what we could do to improve and after some changes thankfully, everything worked out according to plan. I can't thank the guys enough; I'm absolutely delighted with the outcome."
For the team's effort, Rebel Rock Racing was again voted the Forgeline Wheels 'Spirit of the Race Award' for an unprecedented second-consecutive weekend by fans following the event on IMSA Radio.
The Michelin Pilot Challenge concludes its tour of historic Northeastern circuits in two weeks when it returns to action at Lime Rock Park in Lakeville, Conn., on Saturday, July 20.
Additional updates via:
https://www.rebelrockracing.co
https://twitter.com/rebelrockracing
https://www.instagram.com/rebelrockracing/