Rebel Rock Racing takes 10th at Laguna Seca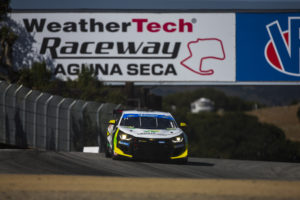 MONTEREY, CA (14 September 2019) – Rebel Rock Racing drivers Frank DePew and Robin Liddell took a hard-fought 10th place finish in Saturday's Laguna Seca 120 at WeatherTech Raceway Laguna Seca, the penultimate round of the 2019 IMSA Michelin Pilot Challenge season.
The result marks the fifth top-ten finish of the season for DePew and Liddell in the No. 71 Urban Grid Solar/MVPCapital Chevrolet Camaro GT4.R.
DePew started from 19th on the two-class grid, moving up to 18th in the early laps of the two-hour race on the storied circuit. He ran a clean opening stint, setting a consistent pace despite the challenge of rapid tire degradation on the California circuit. Feeling relaxed behind the wheel and ready for an extended stint, DePew was called in to pit lane to take advantage of the race's first caution period.
Running ninth with 54-minutes remaining in the two-hour event, the team elected to bring Liddell in for his final fuel stop.
He returned to the race 15th in GS but 27th overall, mired in heavy TCR traffic. While Liddell battled back to eighth, the remainder of the race ran under the green flag as Liddell's tires were worn out in the closing minutes – costing him two positions on the final two laps.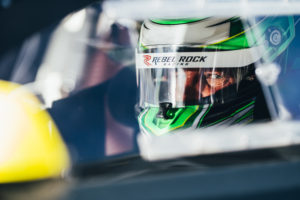 "I just went out there, hit my marks and got more comfortable," DePew said. "I was dealing with tire degradation a little, and was figuring out what the car could do. I stayed out of trouble, and felt really good for my first time here in a race car. I'm really pleased, and a lot of that's due to Robin. He's given me a lot of tools. This is a whole different level of racing from what I've experienced. Everything's got to be perfect to be even remotely on pace. Also, I was much more relaxed this weekend – I could have driven for over an hour."
Liddell moved up to 11th on the pit exchange, and worked his way up to ninth on the lap following the restart. At that point, the team anticipated the way the race would develop and called their driver back to the pits to top off on fuel.
Having put superior pit strategy to work in recent races with two victories and two fourth-place finishes this season, the team was looking to make the most of the call to pit lane.
"We ran a decent race, but it was a bit frustrating at the end," Liddell said. "This is never a track that our cars perform very well on, but the balance was quite good this weekend. Frank drove a great stint at the beginning and at a track he doesn't really know. We were going to leave him out until he ran out of gas, but we got the yellow and of course we came in. Our pit stop was really good, and we made up several positions in the pits."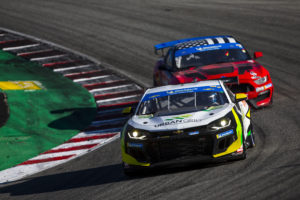 However on Saturday, the long green-flag run – combined with hot 86-degree conditions – led to worn tires during the closing laps.
"We made a good restart, and we decided to pit and do the service to get us to the end," continued Liddell. "But I'm not sure that really played out in our favor and I just didn't have enough grip for the last ten laps. Lessons learned from that. The car's in one piece and the guys did a good job though so I'm happy enough."
The 2019 Michelin Pilot Challenge will come to a close with the Fox Factory 120 at Michelin Raceway Road Atlanta in a two-hour race on Friday, Oct. 11.
Additional updates via:
https://www.rebelrockracing.co
https://twitter.com/rebelrockracing
https://www.instagram.com/rebelrockracing/