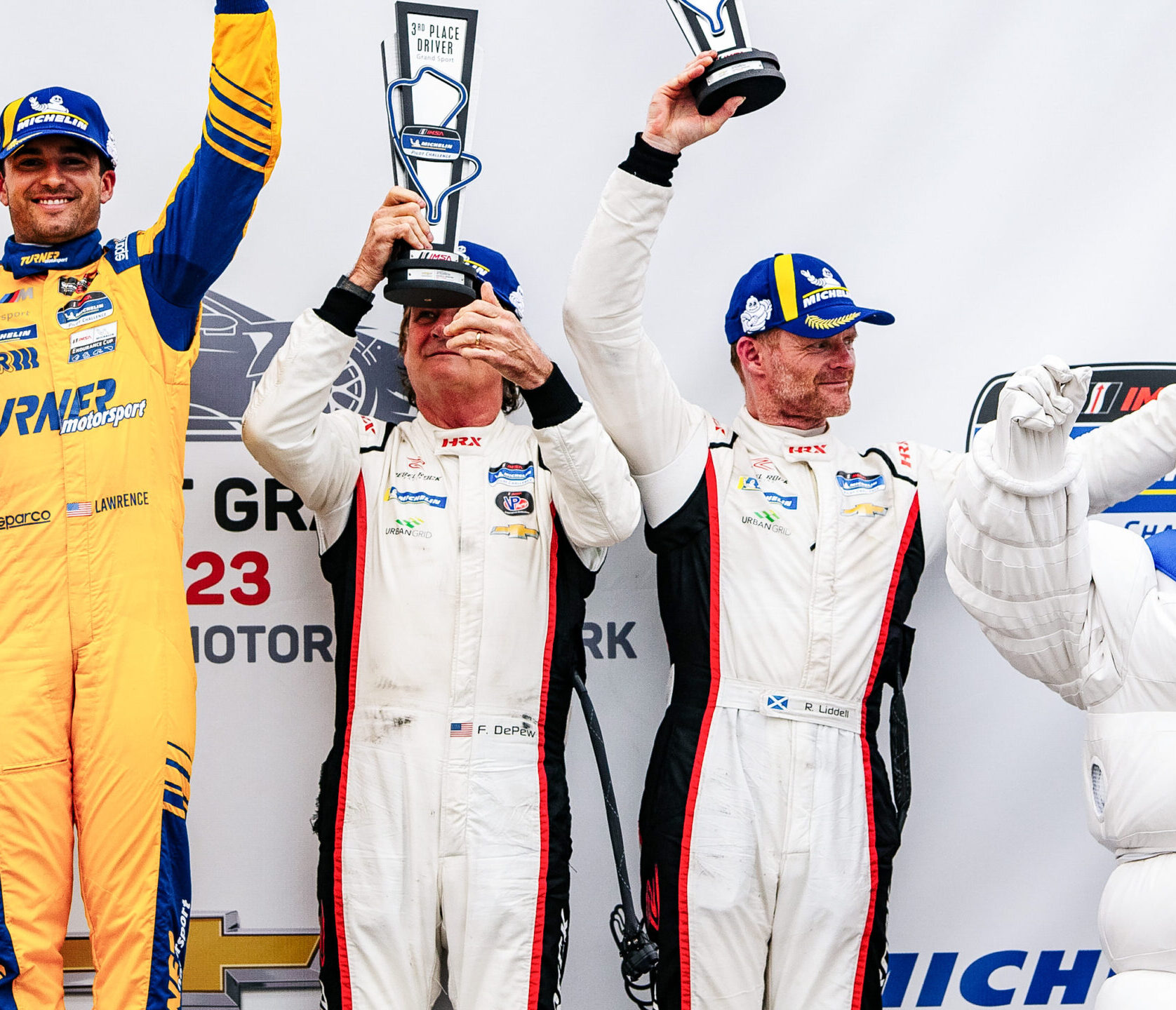 Rebel Rock Racing snatch last-gasp podium in incredible CTMP fightback
Rebel Rock Racing snatched a dramatic last-lap podium finish at Canadian Tire Motorsport Park after an astonishing fightback from the tail end of the grid in the latest round of the IMSA Michelin Pilot Challenge.
Driving the #71 Urban Grid Chevrolet Camaro GT4.R, Frank DePew and Robin Liddell were the class of the field as they recovered from last place on the GS grid to finish second with one of the performances of the season.
Such a result seemed impossible for the team from DeLand, FL, just a few hours before the start; the Camaro sitting in pieces in the awning after contact sent Frank into a barrier during qualifying and left him without a laptime.
However, with co-driver Robin having set the pace in Friday practice in a time under the existing series lap record, hopes were high of a strong fightback in the race from 24th and last on the GS-class grid.
Frank began the charge superbly as he made up seven places within the opening 10 minutes of the two-hour race and was 14th when he pitted to hand over driving duties to Robin at one-third distance.
Robin immediately began reeling in the cars ahead; the Scot setting the fastest lap of the race on his first flying lap and then bettering it three more times as he obliterated the lap record.
Over the next hour and 20 minutes he hauled #71 further up the field, taking over 30 seconds out of the race leader and moving into sixth place by the penultimate lap.
Things got even better as several cars ran out of fuel on the last lap, allowing Robin to move up to a stunning third place – a result that gained the Rebel Rock crew the 'Michelin Moment of the Race' award, as chosen by IMSA Radio.
Several hours afterwards, a result revision promoted the Camaro to a season's-best second place; a result that moved Frank and Robin up five spots to eighth in the Drivers' points and Rebel Rock Racing to eighth in the Teams' Championship.
The team also contested the latest round of the VP Racing Fuels Challenge. Frank, driving the #72 Urban Grid Camaro solo, retired from the opener with a gear shift issue and did not participate in Sunday's second race.
The next event for Rebel Rock Racing will be the VP Challenge double-header at Lime Rock Park, CT, on July 21-22. The IMPC season resumes at Road America, WI, on August 3-6.
Frank DePew said: "Everything pretty much went against us. There were no yellows so we really didn't have a chance to get back to the front unless we could do it through just driving fast from the back of the field. Robin drove the wheels off the car and our crew made amazing strategy calls and flawless pit stops. This is a great result."
Robin Liddell said: "To finish on the podium after the day we had is fantastic. We knew we had a good car here over a stint after setting the pace in practice. The car was good enough on the long straight, very fast in the long corners – which you seem to spend all your time in here – and dealt well with degradation. Qualifying was a nightmare after the car ended up in the wall, but hats off to the crew for getting us race-ready and helping us go from being in 1000 pieces to finishing on the podium."