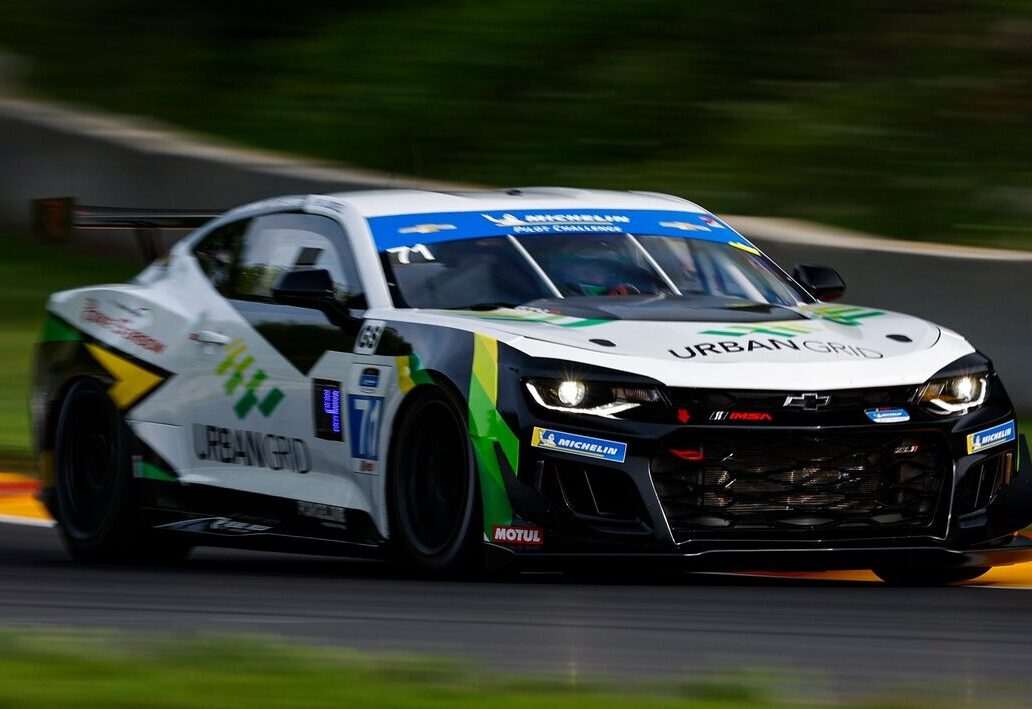 Rebel Rock Racing score stunning Road America victory
Rebel Rock Racing scored a stunning first win of 2023 at Road America on Sunday to launch into battle for the IMSA Michelin Pilot Challenge GS title.
Lying 17th with just under half of the Road America 120 to run, Robin Liddell combined sublime pace from the #71 Urban Grid Chevrolet Camaro GT4.R with a tactical masterstroke to claim a victory to move himself and Frank DePew into third place in the Drivers' points.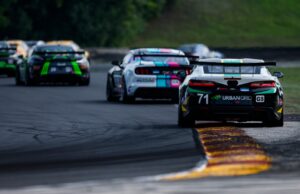 The signs were there from opening practice on Saturday morning, that the team from DeLand, FL, had the potential to challenge at the front as Liddell set the fastest time across the pair of practice sessions.
A clutch issue for co-driver Frank in qualifying limited his track time and restricted him to 17th on the GS-class grid; the Virginia-based racer doing well to avoid an opening-lap pile-up to move up to 16th early on.
Having hit his 40-minute minimum drive time, Frank pitted to hand over driving duties to Robin during a well-timed Full-Course Caution period, the Scottish racer resuming 13th.
It was at this point, as the the halfway point of the two-hour race passed, that the key decision of the day – a masterstroke on a day when the team earned the 'Michelin Moment of the Race' award.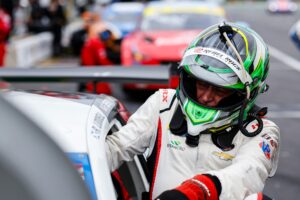 Robin pitted for a further top-up of fuel just two laps after climbing aboard and was able to rejoin the back of the pack before the safety car pulled in.
Lying 17th, he wasted little time in climbing into the top 10 and sat there, conserving fuel while maintaining a watching brief within 10 seconds of the race lead.
With just five minutes to go virtually every car ahead of Robin either pitted for additional fuel under green-flag conditions or ran dry; the upshot of which was that #71 rose to sixth and then to second with just one lap to go.
Giving it everything, Robin set the fastest lap of the race on the final lap as he chased down the leader and crossed the line less than three seconds behind.
Post-race, however, an amended result was published with Frank and Robin promoted to a first win of the year – at the same track where they scored an even more dramatic last-lap win in 2019.
The heroic effort by both drivers means they are now true contenders for the title, 210 points from the series lead with 350 available at each of the remaining three races; the next of which takes place at Virginia International Raceway on August 25-27.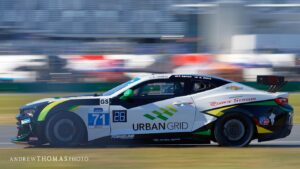 Frank DePew said: "We started the race with two strategies. We planned for me to run as long a stint as possible, but, after the early yellow, there was a mis-communication and I accelerated before the Green Flag fell. That meant the resulting drive-through penalty forced us to change strategies and run a race based entirely on fuel economy. Charlie and Michael, had our fuel calculations down to an exact science, the pit crew was flawless as usual, and Robin drove to exactly the numbers that had been set for us. After Robin stopped to top off before the restart, we knew we could make it to the finish with Robin doing a certain amount of fuel savings."
"As far as the Championship goes, we are definitely back in the hunt as we head to my home race at VIR, a track where we believe we can challenge for the win. Our team is super consistent in the pits, it is important that I race as clean and as quick as I can, and put Robin in the best position possible, and once he is behind the wheel, who knows what can happen!"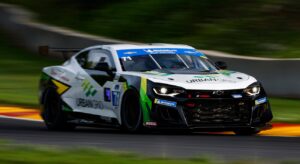 Robin Liddell said: "It's a fantastic result and one we've worked so hard for. We had a fast car all weekend and we played the strategy game to perfection. We had to fuel-save pretty much from the second lap I was in the car, but it was worth it in the end. Because of when we did the driver change and where we were in the order, it made sense to take another bit of fuel during the caution in the middle of the race because we knew that it was possible to make it to
the end without another stop. We thought we'd come up just short of the win, but it turns out we judged it to perfection. Seventeenth to first in an hour… at one of the best tracks in the world… We'll take that any day of the week."