Rebel Rock Racing Returns to IMSA Action at Sebring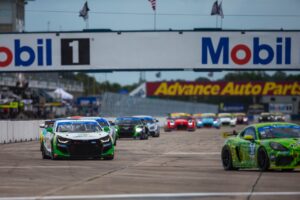 SEBRING, FL (17 July 2020) – An early incident led to a long day for Rebel Rock Racing in Friday's Advent Health 120, the second round of the 2020 IMSA Michelin Pilot Challenge.
Demonstrating his rapid career progress, starting driver Frank DePew did a nice job on the opening lap, slowing to avoid an incident directly in front of him in the No. 71 Urban Grid /Fifth Third Bank Chevrolet Camaro GT4.R co-driven by Robin Liddell.
However, that cost him valuable track position as he became mired in slower GS and TCR class traffic. As he looked to regain ground, DePew got together with a TCR class competitor entering Turn 7 on the fifth lap. DePew went to the grass, with the Camaro sustaining light left-front damage.
"It was definitely a tough one," DePew said. "I didn't get in a good lap in qualifying, so we started in the middle of the 35 car pack. A few cars got together in Turn 3 on the first lap. I got through it without damage, but a lot of cars on the outside were able to go right around it and gain significant track position.  I then tried to keep my cool and over the next few  laps picked off cars safely.  Then on Lap 5  I had a good run on the Murillo Mercedes SLR GS into the hairpin, car and got by,  but there was a TCR car in front of him,  the TCR car and I  got together at the apex. It was on me. The TCR car probably didn't see me coming and I was unsighted to the TCR car as well. I was an ill-advised  move on my part."
When he attempted to return to the track, DePew found that the car wouldn't turn due to a broken steering arm. Moments later, the race was red-flagged due to lightning in the area, preventing the team from getting on with the job of repairing the car. Racing resumed with one hour, 10-minutes remaining. The Rebel Rock crew needed 12 laps to repair the damage, with DePew returning to the race with 40 minutes remaining.
"That hit broke the left front suspension – a shock and a tie rod," said DePew.  Once I got back out there, the hood wasn't latched properly, so I came in again after a lap and they secured it. The guys did an amazing job fixing all the damage. The car ran reasonably well, and I got in some decent laps, but for all intents and purposes our race was over."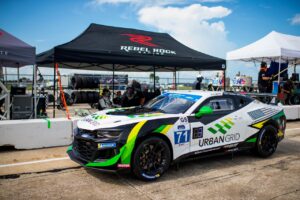 DePew held his own until a second caution for weather went out with 17 minutes remaining. DePew pitted to turn the Camaro over to Liddell, but continued lightning in the area prevented the race from resuming.
"We had another yellow and Robin got in, but it stayed yellow and he didn't turn a hot lap," DePew said. " I love racing at Sebring, and we get a chance for a reprieve in November at the final race of the year."
Liddell added: "Overall it was a frustrating result in what had promised to be a successful weekend. That being said it was great to blow off the cobwebs and get back to racing, thanks to IMSA and the whole crew at Rebel Rock Racing. Frank made great strides again with his driving after a long layoff and I think the condensed schedule will help in terms of building our confidence for the rest of the season."
Next up for the Michelin Pilot Challenge will be the Road America 120, set for Saturday, August 1.
Additional updates via:
https://www.rebelrockracing.co
https://twitter.com/rebelrockracing
https://www.instagram.com/rebelrockracing/