Rebel Rock Racing Ready for Lime Rock Park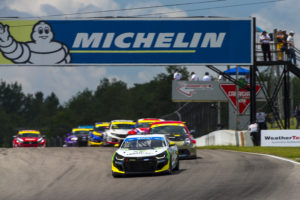 LAKEVILLE, Conn. (18 July 2019) – Coming off an impressive victory at Canadian Tire Motorsport Park (CTMP), Rebel Rock Racing now turns its attention to Lime Rock Park, the sixth race of the 2019 IMSA Michelin Pilot Challenge season (live streaming 11:00 AM ET Saturday at imsa.tv).
Following a run to fifth at Watkins Glen ahead of their CTMP race victory, IMSA's most recent race winners Frank DePew and Robin Liddell have seen the fortunes of the No. 71 Urban Grid Solar/MVP Capital Chevrolet Camaro GT4.R make a positive uptick.
Both the Watkins Glen and Canadian Tire Motorsport Park  (CTMP) races – held on back-to-back weekends, featured strong opening stints by DePew. The first-year professional driver stayed on pace in both events, keeping the Rebel Rock Racing Camaro in contention on the lead lap.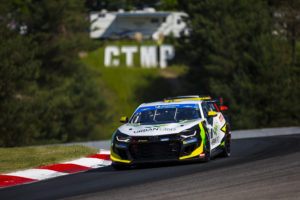 "CTMP is a fairly daunting track and I had never been there in a race car, so it was great to make the gains that we did through the weekend and even during the race," said DePew. "We had two penalties at Watkins Glen and still finished fifth, and then to turn around and win in Canada, it was a pretty big accomplishment for the team. It is a great show of what having the right people involved can do. Now the team will work to keep up some momentum here at Lime Rock."
The two-race surge allowed Liddell and DePew to vault from 49th to 13th in the Grand Sport (GS) standings. With a one-week break, the series now returns to the Northeast to compete at a third classic circuit. Built in 1957, Lime Rock is a tight 1.5-mile venue that features lap times of less than one minute for the Michelin Pilot Challenge GS competitors.
Liddell is a former winner at Lime Rock, both in IMSA Michelin Pilot Challenge competition in 2017, and in the GRAND-AM Rolex Series in 2011 & 12, with all three victories coming at the wheel of Chevrolet Camaros.
"After Watkins we worked hard on just improving our execution as a team, and so it was very satisfying to turn that around and head to CTMP and get our first win," said Liddell, who taps into his wide range of experience as he also functions as team manager for Rebel Rock Racing.  "Frank did a great job in his stint and the rest of the team did an amazing job in some challenging circumstances. It was such a thrill to win again, and now we hope to continue that success at Lime Rock."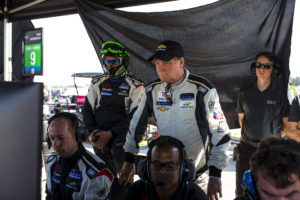 DePew and Liddell were originally slated to share the driving duties in Saturday's two-hour Lime Rock 120, but other commitments unfortunately mean that DePew will be unable to attend this event, so Andrew Davis will return to the team this weekend.
Davis – who joined the pair for a then season-best fifth-place finish in the four-hour race at Watkins Glen International, also finished second with Liddell in a Stevenson Motorsports Audi in the 2016 IMSA WeatherTech Championship event at Lime Rock.
Liddell: "It's a shame Frank can't make it this weekend especially as he's come on so much in the last couple of races, but Andrew is the perfect fit and I'm sure he will do an excellent job as always. We've just completed a two day test at Road America, so I know that Frank is really looking forward to getting back in the driving seat when we return there in early August."
The Rebel Rock Racing team will be busy on Friday at Lime Rock, with three practice sessions followed by GS qualifying at 4 p.m. (all times ET). The Lime Rock 120 takes the green flag at 11:10 a.m. on Saturday.
Additional updates via:
https://www.rebelrockracing.co
https://twitter.com/rebelrockracing
https://www.instagram.com/rebelrockracing/