Rebel Rock Racing Looks to Build Momentum at Road America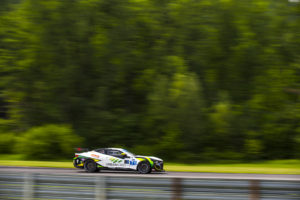 ELKHART LAKE, Wisc. (30 July 2019) – Rebel Rock Racing is looking to continue its streak of impressive finishes when the No. 71 Camaro returns to action in Saturday's Road America 120, the seventh of 10 races in the 2019 IMSA Michelin Pilot Challenge (IMSA.tv 5:05pm ET Saturday).
Frank DePew will co-drive with Robin Liddell in the No. 71 Urban Grid Solar/MVP Capital Chevrolet Camaro GT4.R as the duo look to continue the team's strong run of mid-season form. With three consecutive top-five results including a win at Canadian Tire Motorsport Park (CTMP), Rebel Rock Racing has established a competitive presence in the IMSA category, which features a deep roster of talented teams and drivers.
DePew and Liddell combined for the CTMP victory in July, with Andrew Davis pairing with Liddell at Lime Rock Park for a run to fifth place following an unlucky break with timing on a safety car.
Heading to the fabled 4.0-mile Road America circuit, the team will arrive with a recently updated engineering notebook as well as two well-exercised drivers, having recent experience at the Wisconsin circuit.
"We tested for two days at Road America before we went to Lime Rock," said Liddell. "That race was run in very hot conditions all weekend, and the guys were all worn out. But they've done a great job, and I'm really happy about that. There is a new bar set for us, since we won at CTMP, and we had a good opportunity to win again at Lime Rock. Unfortunately, we made a few mistakes, and you can't make mistakes and win at this level. But we will learn from that and continue to grow."
After a series of incidents in the early stages of the opening three races of the season, DePew, Liddell and Davis placed fifth in the four-hour race at Watkins Glen in June, beginning the team's current surge in Grand Sport competition that saw Liddell climb to 10th in the standings.
"I'm happy that we had the opportunity to test the Camaro at Road America, and hopefully that will put us in a good place to open the weekend," said DePew. "The Michelin Pilot Challenge races are so competitive with so many great drivers and teams, everything has to go right to get a result. We've had three strong races in a row and our goal is to use what we learned in testing to be able to continue that momentum. Road America is a really cool track and I'm looking forward to getting back in the car!"
The Elkhart Lake event will begin with promoter's testing on Thursday and practice on Friday. GS qualifying begins at 10:40 a.m. on Saturday (all times CT), followed by the Road America 120, a two-hour race that takes the green flag at 4:05 p.m.
Additional updates via:
https://www.rebelrockracing.co
https://twitter.com/rebelrockracing
https://www.instagram.com/rebelrockracing/